ASEAN / East Asia's economic rise is reflected in the economic competitiveness of its cities. Given the rapid growth and development of these cities, their mutual competition for companies, investments and talent has already begun. What is the best location in ASEAN / East Asia for Dutch or German SMEs?
---
While Singapore and a few other Asian cities have developed themselves as global competitive centers in recent years, size and growth potential alone does not determine the competitiveness of a country. Meanwhile, emerging markets such as Myanmar and Indonesia have the potential of comparable benefits. In addition to economic size and growth, various other factors determine the overall competitiveness of a country, such as quality of human capital, level of education, English skills, costs of doing business, income level, business and regulatory environment, etc.
To determine which location in ASEAN / East Asia is best for a European SME to set up its business operation, we have further studied a number of large and emerging countries in ASEAN / East Asia through interviews with industry experts, corporate executives, and civil servants, and study of various quantitative and qualitative indicators (Labor cost, skilled labor, political & social framework, taxes, cost of doing business, visa regulations, ease of doing business). These countries are: Thailand (Bangkok), Malaysia (Kuala Lumpur), Singapore, Indonesia (Jakarta), Philippines (Manila), Hong Kong and South Korea (Seoul).
1-ASEAN (Association of Southeast Asian Nations) is an organization of ten countries in Southeast Asia (Brunei, Cambodia, Philippines, Indonesia, Laos, Malaysia, Myanmar, Singapore, Thailand, Vietnam) to promote economic, cultural and political cooperation.
---
Case Study: Kuala Lumpur – Asia's most underrated city
Although Singapore is still the choice for finance and Hong Kong is the preferred city if you are looking for a "safe way" to enter the Chinese market (although currently likely less though, due to the political tensions), Kuala Lumpur has become one of the global Islamic financing centers in recent years, with the petrochemical and IT industries also being very important in Malaysia.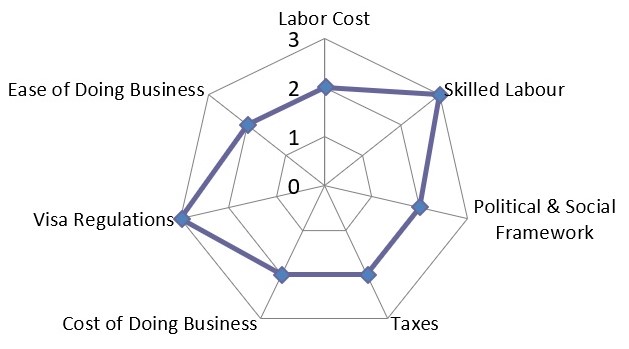 ---
Our most important findings
Unlike most European countries, the countries we have studied do not perform equally well on all pillars of competitiveness. In fact, very few cities are good all-round performers and no city has absolute benefits in all dimensions that potential investors consider important.
A manufacturer looking for cheap (building) land, competitive labor and good transport facilities will inevitably be attracted to a different city than where a technology company looking for highly skilled graduates to invest in R&D would be attracted to. Even companies in the same sector will find other locations attractive.
Dutch or German luxury brand suppliers will consider the purchasing power of high-income residents in Singapore, Seoul or Hong Kong, while a low-cost consumer goods manufacturer is more focused on untapped markets such as Myanmar.
The top rankings of cities like Singapore, etc. are largely due to their attraction to a wide range of companies, low level of corruption, high level of government efficiency and excellent Financial Services hubs. Despite these facts, due to the high cost of doing business, these cities will be unattractive for many companies with special wishes / circumstances. For companies looking for moderate business costs, excellent quality of life, good English-speaking staff, good infrastructure, affordable office rental and a stable political system, Kuala Lumpur is by far the best, and also the most underrated, location in ASEAN / East Asia.
---